We look forward to meeting you!
At Saratoga Dental, we believe that by taking a team approach we can provide a more comfortable experience and achieve a higher level of patient care.
---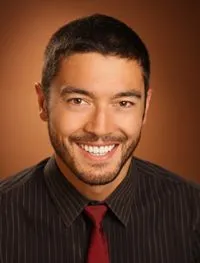 Braden H. Giswold, D.D.S.


Dr. Braden aims to provide the best, most up-to-date, comprehensive, and comfortable dental care to the South Whidbey community. By traveling the country to attend continuing education courses many times every year, he stays on the cutting edge of current care. His studies have given him an advanced education in Neuromuscualr TMJ treatment, Orthodontics, Implant Dentistry, Biological/Naturopathic Dentistry and Cosmetic Dentistry. His commitment to continuing dental education and broad scope of interests in the dental field give his patients the piece of mind that they are receiving truly comprehensive, up-to-date and highly skilled care.

Patient comfort is another of Dr. Braden's priorities. During the visit, he takes time to be sure the patient has everything they need to be comfortable. He offers every patient a pillow, blanket, noise cancelling headphones, and Nitrous Oxide laughing gas. He takes the time to deliver comfortable local anesthesia, and be sure the patient is adequately numb before beginning. He does everything he can to ensure the patient's experience at the office is comfortable and positive.
Dr. Braden's excellent dental skills were recognized during his time at University of Washington School of Dentistry. He received the award for Excellence in Operative Dentistry by the National Association of Gold Foil Operators, and the award for Excellence in Pre-clinical Fixed Prosthodontics from the University Of Washington Department Of Prosthodontics. Since then, his excellence in dentistry has been recognized by the many positive reviews from his patients.
When Dr. Braden is not caring for patients or participating in continuing education, he enjoys spending time with this wife and two children enjoying the outdoors. Their outdoor passions include rock climbing, backcountry snowboard touring, surfing, and kitesurfing.

Dr. Braden Giswold's professional affiliations include:
---
Chase Talbot, D.D.S.
Dr. Chase is passionate about dentistry. He believes that oral health is critical to a long, healthy, and enjoyable life. With a gentle touch and open ear, he provides thoughtful care that is individualized to the needs and goals of those he treats. To him, nothing is more gratifying than a happy and healthy patient.

Dr. Chase is excited to be a new resident of Whidbey Island and is eager to cultivate relationships with those in his new community. His journey to Whidbey Island began in Wenatchee, Washington, where he was born and raised. His father was a highly respected dentist in his home community. Sitting chair-side, observing his father work, is where Dr. Chase's passion for dentistry and dental education first began.

Dr. Chase graduated from the prestigious University of Washington School of Dentistry in 2015 and was immediately accepted into an Advanced Education in General Dentistry residency in the US Navy. After his advanced education, he continued to practice with the US Navy for four more years. He has much gratitude for those years spent caring for those Navy men and women, and expanding his skills under the mentorship of his senior doctors and specialists. Between his time in the US Navy and joining Saratoga Dental, Dr. Chase enjoyed serving those in downtown Seattle in need of esthetic and urgent dental needs in private practice.

Dr. Chase loves traveling to experience new places and different cultures. Through these travels he's come to appreciate how truly unique the PNW is for its stunning geography and caring residents. Whether he's skiing, hiking, mountain biking, playing tennis or investigating tide pools with his niece and nephews, it's a safe bet you'll run in to Chase in the great outdoors.
---
Jodi - Financial Coordinator
Jodi has a calming and sincere manor that helps patients feel comfortable knowing that she will help them with their accounts and treatment scheduling. She is also knowledgeable about insurance and will help in ways to maximize patient dental insurance coverage. Her previous experiences in specialty dental practices give her a wide perspective.
---
Catherine - Hygienist
A 1997 graduate from the University of Washington Dental Hygiene program, Catherine is enthusiastic about her profession and deeply cares about her patients' dental health. Prior to joining the team at Saratoga Dental, she spent 3 summers in Zimbabwe with the "Volunteer Mobile Medical Team", teaching dental health and doing hygiene in rural communities. Her thorough understanding of periodontal disease and its contributing factors assure that our patients receive the education and treatment needed for optimum health. Her delightful personality makes our patients look forward to their next appointment.
---
Melissa - Hygienist
Melissa is a talented hygienist who is devoted to providing her patients with therapeutic and comfortable care. She is a sweet southern soul that came to Whidbey for its natural beauty, and to be close to her best friend. We are so happy to have her on our team!

---
Shalyn - Dental Assistant & Scheduling Coordinator
Shalyn brings delightful energy and enthusiasm to the office. She is eager to assist patients to make their appointment comfortable and efficient. Her sincere smile and easy manor makes you feel comfortable and relaxed. She has a contagious laugh and happy nature that makes everyone in the office smile along with her.
One of the reasons "Shay" is so happy is because she is doing the job she's been dreaming of since the early age of nine. At that time, during her mother's dental appointment at Saratoga Dental, she showed so much interest and curiosity she asked if she could help. She received her CDA with honors and has been a member of the Saratoga Dental team since 2004. She is a hard worker and we are happy that Shalyn has joined our team and has decided to make Dental Assisting her career.
---
Carolyn - Dental Assistant
Carolyn brings 25 years of dental experience to her work, and it shows. Her organizational mind and attention to detail assure that appointments are comfortable, efficient and timely. She has taken advanced courses on dental x-ray, aesthetic dentistry, orthodontic and implant techniques and materials. "She is the best assistant I have ever worked with, a teacher, wonderful co-worker and a very caring person who loves her job and patients," says a coworker. Carolyn has compassion for our patients' comfort and care, and does all she can to assure that treatment goes smoothly and pain free.
---
Amy - Dental Assistant
Amy started her dental career with us in 1999. She has a gentle calming presence and caring heart ready to listen to a patient's concerns and soothe fears. Her smile is honest and delightful, and you can tell that she loves her work. Kids especially enjoy Amy because she makes them feels special and is attentive to their feelings.